No exploration into wisdom and self-knowledge would be complete without reference to Plato, whose dialogues were written in the 4th Century BC and are still available intact. He covered a vast range of subjects, and everything he wrote has a remarkable relevance to our modern world. No matter the subject we will find in Plato remarkable insight and wisdom to guide and develop our thinking.
The School worldwide has spent many years exploring the works of Plato, and a member of the School in Ireland has undertaken to provide a new translation of the complete work. Dr David Horan is due to publish the new translation on-line in 2020, with a fully revised printed edition due in 2022.
Following the vein of Plato, the School also studies the works of Plotinus, and more broadly the Renaissance; in particular the works of Marsilio Ficino whose letters the schools of philosophy around the world have translated into English. These letters are a fitting companion to Plato because they, too, show life as the active and practical aspect of philosophy's rational inquiry and inner contemplation.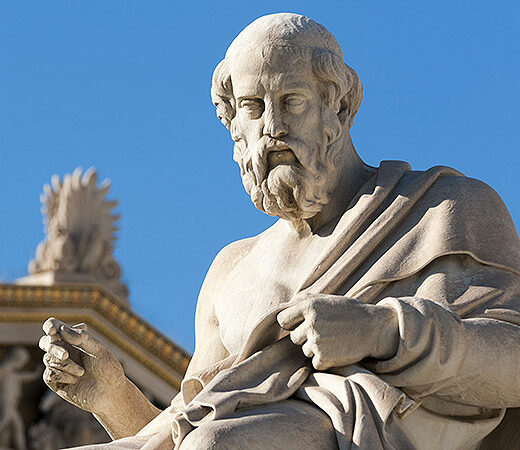 Whether reading an entire dialogue or just a short extract we find that Plato has the power to develop and refine the use of the mind. It is for this reason that the School offers many opportunities to study Plato – not only in the regular philosophy courses, but also in special study sessions, study days, study weeks and short courses. 'The Wisdom Within' introduces us to Plato and as early as the 'Presence of Mind' course we tackle head on his famous Analogy of the Cave, which invites us to examine the very substance of the world in which we live.
The School offers regular 'Afternoons with Plato' which are always well subscribed, and provide the opportunity for budding philosophers to meet and discuss a specific topic.
The annual Plato Study Weeks in Greece are always a special treat, offering students the chance to study Plato's philosophy in his native land.
The annual week long Plato summer school is conducted by St.Kilda beach in good company. We are sure Plato would approve of the balanced program that includes a chance for physical exercise, guided study, healthy and delicious vegetarian meals and nourishing entertainment.
At all these events particular emphasis is laid on the relevance of the works to our modern world. More recently we began offering regular six week on-line study courses (one hour per week) which provides a convenient way to explore a topic – all from the comfort of home. Events are posted to this website as and when they become available for registration.