CROYDON
Wyreena Community Arts Centre
13-23 Hull Road
Croydon VIC 3136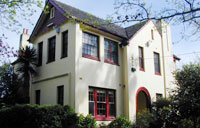 The Branch School of Croydon opened its doors to local people in 1990. Initially meeting at a TAFE venue, the final home was found shortly afterwards at "Silver Birches", a quaint but beautiful, two storey historical residence, situated in the established, park-like setting of Wyreena Community Arts Centre, from where the City of Maroondah conducts many community groups. What followed at Silver Birches were many hours of enthusiastic service and fine attention from a small band of students, as the interior of the building was cleaned, painted and curtained, topped off with lovely and enriching prints on the walls. Over the years Maroondah City Council has generously added to the restoration of the old home with some major structural works. Everyone who comes to Silver Birches enjoys the light, bright and peaceful ambience they find there, complemented with beautiful flower arrangements in abundance, faithfully arranged by students each week. Though a smaller Branch in terms of numbers, the strength of the School holds together a robust group of long-time students, as well as newer students. Many find the friendly and intimate environment appealing and all newcomers can be assured of a warm, affable welcome, as they set about their philosophic enquiry in small groups ably facilitated by dedicated, experienced tutors.
BALLARAT
25-39 Barkly Street
Ballarat VIC 3350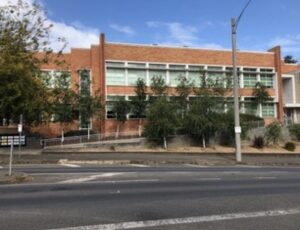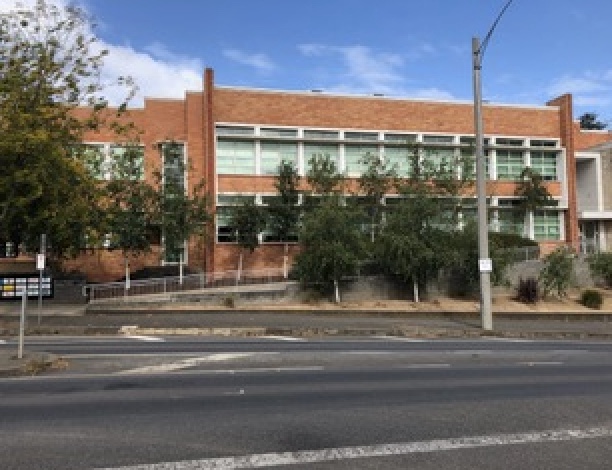 The Ballarat branch of the School of Philosophy started on Tuesday 29th January 2008 in the Ballroom of the old Mining Exchange building, 28 students were in attendance and 3 still attend classes. It was all made possible by the generosity of the Geelong School students who volunteered their time and of course the Ballarat students who opened their minds and hearts to a shared vision and its realization. Since that time over 400 students have participated in a "The Wisdom Within" course while the School has had 5 different venues.
Although we are a small branch, with small class sizes, there is a good feeling of camaraderie between individuals and groups in the overall school with three of the more senior groups volunteering their services each week to help with running the nights classes.
Figures and venues are one thing but the value to the community is harder to quantify. Time after time our students tell us that even attending one ten-week course has changed how they look and deal with the world. Our continuing students talk about how it has changed their life for the better and how they value the deep discussions and the ability to explore ideas in a non-judgmental environment.
GEELONG
All Saints Hall
113 Noble Street
Newtown VIC 3220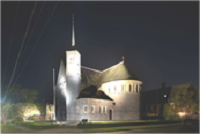 The Geelong School of Practical Philosophy was started by Dr John Tippett in 1996 at Geelong's old courthouse building. The School then moved for a long time to the Dalgety building in Malop St and then to temporary venues including the old Geelong Grammar building in Maud St. Enrolments in the Geelong School peaked at over 100 students at the Dalgety building and the School is now supporting about 30 students who meet on Tuesday and Thursday evenings. The Geelong School of Practical Philosophy will celebrate its quarter-century next year. The city of Geelong has about the same population as ancient Athens did and like ancient Athens, it has a philosophical epicentre – which gives its students valuable practical wisdom and gives its community something even greater to connect with than the Geelong Football Club.
CASTLEMAINE
Castlemaine Uniting Church
8 Lyttleton Street
Castlemaine VIC 3450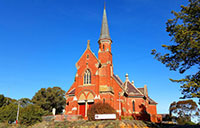 Whilst located in Castlemaine the Central Goldfields branch has students from Bendigo, Daylesford and as far afield as Serpentine and Gisborne. It is the newest regional branch in Victoria, having started in 2019 and is well on its way to being a thriving hub of philosophical enquiry within our community. Sessions are facilitated by an experienced presenter and are lively and often challenging. From the very first night, we jump in and explore through discussion key philosophical principles and as this is a course in exploring how life may be lived well, there is a practical side – everyone is encouraged to engage with the weekly practices. Some students do one module others stay on for more – the choice is entirely yours to make! But rest assured our exploration of Philosophy is far from dry, dull & tedious – it is a lively, energetic exploration which may very well challenge your ideas of who you are and what your life is about. If you live "locally" do come and join us, and meet other like-minded individuals.